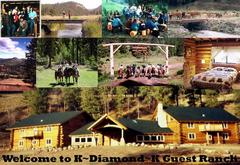 Enlarge
K-Diamond-K 'Dude' Ranch Package. Overnight stay in a hand-crafted log Lodge. All-Inclusive, one full day of activities for (2).
Vacation at this incredible Guest "Dude" Ranch!
Whether it's a get away by yourself, a romantic long-overdue second honeymoon, or even a family adventure ~ a variety of fun activities and special outings await you. K-Diamond-K Guest Ranch of Republic, Washington has donated a get away vacation package to the highest bidder. This exciting vacation package consists of:
Certificate is for (2) adults. Contact Guest Ranch for arrangements and costs of additional people.
One overnight stay ~ awaits you in a spacious bedroom at the K-Diamond-K Guest Ranch's hand-crafted log Lodge.
One full day of activities offered at the Guest Ranch. Those include: Hiking; Fishing; Snowmobiles; Snowshoes; Old-Time Campfires; checking out the wildlife; cattle drives; and the top number one choice … Horseback Riding! You can even bring your own horse without an additional charge for stalling, and feeding.
Package includes breakfast, lunch, and dinner at the ranch. Dining at the Ranch offers a variety of meals served family-style with big country breakfasts, scrumptious lunches, tender steaks, savory pastas, delectable desserts, and other creative specials by the cook.
Check in - After 4:00 PM 'With lots of time to make Dinner.'
Check out - 'After Lunch' 1:00 PM
One Guest Registration and Reservation form.
This Certificate will be valid for a (1-Night Stay) year round with no expiration date! Guests staying at the ranch are made to feel at home and enjoy the warm hospitality and delightful meals in a relaxed atmosphere. For additional information: www.kdiamondk.com.